DDoS Protection
Today, confrontation with DDoS attacks is required new technologies and an experienced team
Today the category of security and its branches, especially the DDoS (distributed denial of service attacks) has become critical and pervasive. Particularly for servers, this vulnerability and security weakness in DDoS attacks are a deterrent to provide more reliable and better service for users.
The growth of computer and network infrastructure and also DDoS attacks increase indicate that it is not enough to have a firewall or intrusion prevention system by itself. Today, confrontation with DDoS attacks is required new technologies and an experienced team. Combination With these defense methods we can prevent bandwidth-based DDoS attacks and applications.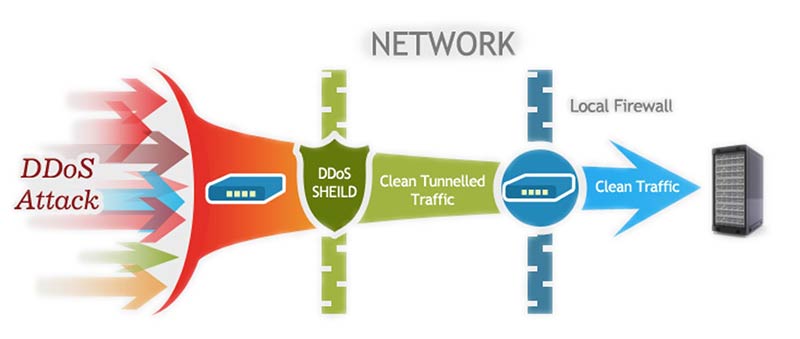 DDoS is done in two general ways. One, attempts to send a high volume of traffic to saturate the entire bandwidth and disturb users traffic and the other to run high demands on a server and overuse of its resources (processor, database, bandwidth, memory etc.) so its services will be disturbed or completely unavailable with resource overflowing.
In this type of attacks, huge volume of traffic or request may be uploaded through various computers, wanted or unwanted, to a server (with a specified IP) on the instant or within a time. It causes bandwidth saturation or server disconnection. In fact, DDoS attacks may take in different forms to disrupt bandwidth or a service such as Web service or DNS service.
FAVAMOUJ Company offers optimized and implementable solutions in Iran, relying on his expert trading team with many years professional experience in the implementation of security solution, IT market and networking. Also using laboratory facilities, it has been successful in designing, expert consultation and implementation in all fields.
FAVAMOUJ's solutions are based on two approaches locally or using Scrubbing Centers. In the face of local attacks, due to robust architecture, FAVAMOUJ's proposed solution are implemented independently of other structures and it is possible to detect and deal with massive attacks against IT infrastructure at the moment of the event without changing the configuration, topology or added investment on the network equipment.
Despite the sanctions available in Iran, an external DDoS attack such as data refining centers can also be used if needed or implement this solution in conjunction with the previous approach and in combination. In this structure it is possible to pass clean traffic while clearing traffic-induced attacks. Both FAVAMOUJ solutions allow for the detection and reduction of complex bulky attacks and can be implemented at the Carrier level and in comparison with other ways to reduce other attacks that are internally implemented, high scalability and cost-effectiveness are provided in large networks with multiple clients and bandwidths of tens and hundreds of gigabits per second
Export PDF